Bennington - A Hard-luck History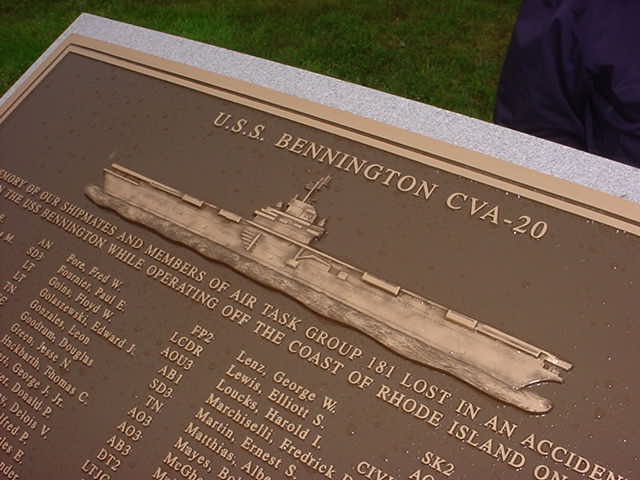 Located in the southwest corner of Vermont, Bennington was the site of a battle that took place in 1777 as a part of the larger Saratoga campaign that led to the surrender of General John Burgoyne.
The Navy commissioned its Bennington on June 20, 1891. It was Gunboat No. 4 and was part of a new class of steel-hulled gunboats. On July 21, 1905, she experienced a boiler explosion and sank with the loss of one officer and 65 men being killed. All of those who survived suffered some injury. Although refloated, her condition precluded repairs and she was scrapped.
The second Bennington commissioned was USS Bennington (CV-20). Following sea trials in December 1944, she saw extensive action in the Pacific during the final phases of World War II. After the war, Bennington was decommissioned and mothballed as part of the Atlantic Reserve Fleet. Four years later, she was modernized to be able to accept the new jet aircraft and placed in active service with the new designation of an attack aircraft carrier (CVA-20).
While on a training cruise in 1953, Bennington suffered an explosion in her number 1 fireroom. While the fire claimed the lives of eleven men, the damage control team was able to minimize damage.
The following year, USS Bennington was conducting carrier qualifications for the embarked Air Group 181. On the morning of May 26 as she began to launch aircraft, a series of explosion rocked the ship as the port side catapult accumulator burst and released vaporized lubricating oil which then detonated, enveloping the wardroom and crew's mess. While the crew fought the fire and tried to save their ship, they were able to launch all aircraft. Ninety-one men were killed outright and twelve would die later from their injuries. Over 203 were injured.
Eighty-two casualties were brought to the Naval Hospital in Newport, many in serious and critical condition. They had been brought by helicopter to the hospital pier and by ambulance the rest of the way. Local civilian physicians and nurses augmented naval medical personnel from the base and the fleet. Over 1600 blood donors were received on the first call. Many of the lives that were saved were the result of helicopters evacuating the wounded to shore facilities for rapid treatment and the long hours of dedicated care by medical personnel.
Bennington went through extensive repairs and, while in the yards, received an angled flight deck for improved air operations and an enclosed hurricane bow for protection in heavy weather.
In 1995, the Bennington became the first aircraft carrier to be sold for scrap outside the United States. There has not been another naval vessel named Bennington.
On May 26, 2004, a
bronze plaque was located at Fort Adams State Park to memorialize the event and the crewmembers who died.